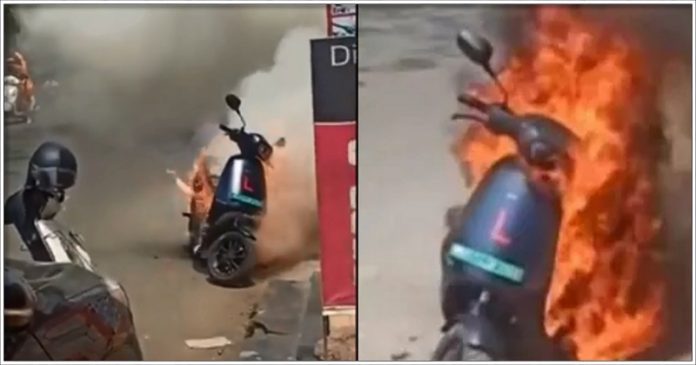 હાલમાં Ola સ્કૂટર(Scooter) ભારતીય બજારમાં ધૂમ મચાવી રહ્યું છે. ગ્રાહકો Ola ઇલેક્ટ્રિક(Electric) સ્કૂટરની આતુરતાથી રાહ જોઈ રહ્યા છે. કંપનીએ અત્યાર સુધી રેકોર્ડ બુકિંગ મેળવ્યું છે.
આ દરમિયાન, એક વીડિયો(Video) સામે આવ્યો છે જે આ સ્કૂટરની સુરક્ષા પર સવાલ ઉઠાવે છે. સોશિયલ મીડિયા(Social media) પર એક વીડિયો ખૂબ જ શેર કરવામાં આવી રહ્યો છે. જેમાં Olaના એક સ્કૂટરમાં અચાનક આગ લાગી હતી. આગની જ્વાળાઓ પહેલા વિસ્ફોટનો અવાજ પણ સંભળાય છે.



આ વીડિયોમાં Ola S1 Pro ઈલેક્ટ્રિક સ્કૂટર રોડ કિનારે ઊભું જોવા મળે છે. જેમાંથી પહેલા ધુમાડો અને પછી જ્વાળાઓ નીકળતી જોવા મળે છે. મળતી માહિતી મુજબ, આ પુણેનું રજીસ્ટર્ડ Ola S1 Pro સ્કૂટર છે. સ્કૂટરમાંથી પહેલા ધુમાડો નીકળે છે અને પછી વિસ્ફોટ સાથે સ્કૂટરમાં આગ લાગે છે.



Ola's statement also came after the video came out. The company said they have spoken to the scooter's owner and it is completely safe. The company said in a statement that it had received information that an Ola scooter had caught fire in Pune. The cause of the fire has been investigated and information will be released soon.
"Vehicle safety is of paramount importance to us and good quality products are used in scooters," OLA said after the incident. We have taken this incident seriously and decided to come to the right conclusion. It is being speculated that this may be due to damage to the lithium-ion battery or a short-circuit.
The OLA S1 starts at Rs 1 lakh and the OLA S1 Pro starts at Rs 1.30 lakh. The S1 can run up to 120 km on a full charge and the S1 Pro can run up to 180 km on a single charge. The price of both electric scooters is determined by subsidy in different states.